The other week, I went to a dear friend's baby shower held at another good friend's house. I have to say it was the nicest baby shower I had ever been too.
She had this lovely sign at the door which I thought was the most tactful way to request no shoes in the house.
Following are some detail shots of the absolutely yummilicious hors d'oeuvres.
Makes me hungry just lookng at it. These jelly bean strings were awesome. They bought an insane amount of dental floss and then hand strung them. Seems a shame since they weren't touched.
These cupcakes had the most completely and totally awesome frosting on it that I have ever tasted. I believe it was buttercream icing mixed with strawberry puree.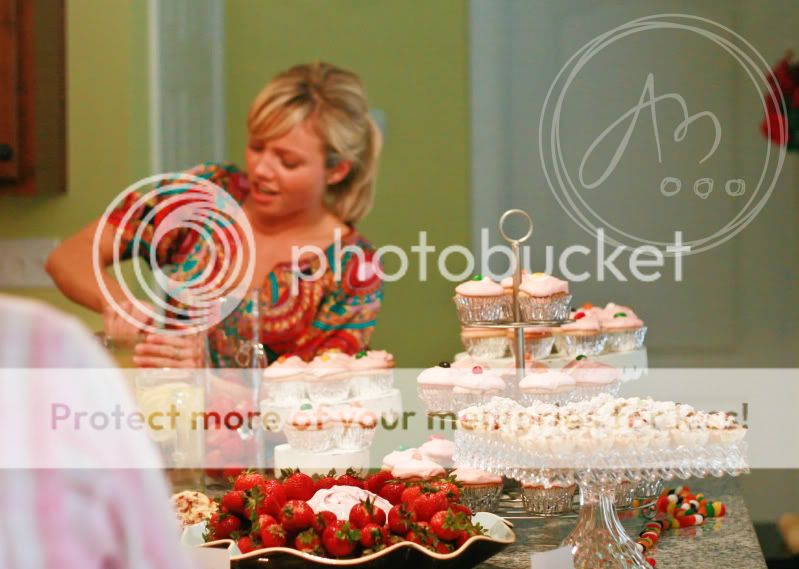 I love these cute and simple decorations.
The guest of honor herself looking absolutely adorable.
I think it's safe to say the guests were having a good time.
These were the beginnings of a pretty fun game that came later. I had only heard of it one time before. We were all asked to bring a baby picture of ourselves.
We also had two other games as well. One was trying to remember what the baby names were for all kinds of animals, harder than it seemed. The other was trying to match Bible parents with their offspring. Also more difficult than it seemed.
Then it was gift opening time.
Leslie had two helpers with the gifts. One was the guest of honor's niece, this adorable little girl. She was standing at the ready to hand off gifts and was as excited as if they were her own. I think she is looking forward to having a little cousin to play with.
Digging in. :)
This was a cool little gift. Perfect indulgences for her last days of pregnancy.
These bibs are more rockin' creations of
Wendy
from
BellaBee Designs
.
Cuteness itself.
The grandmother-to-be thought she could hide from my lens by sitting next to me. Little did she know that I had a wide-angle lens.
I was so glad that I caught this adorable shot of the father-to-be's mother and her first grandchild.
Here is Taylea giving up the answers to whose who in the baby picture game.
And here are the three ladies most anxiously waiting Luke's arrival.
Taylea had asked me to take some images because she needed some new ones for her home. Her mother and sister had come all the way from Oklahoma for the shower so I made sure to get some wall-worthy images of the two of them.
Her sister is just as gorgeous as she is.
As you can see.
And lastly is this big guy was thrilled to pieces to be out of the garage finally once everyone cleared out.